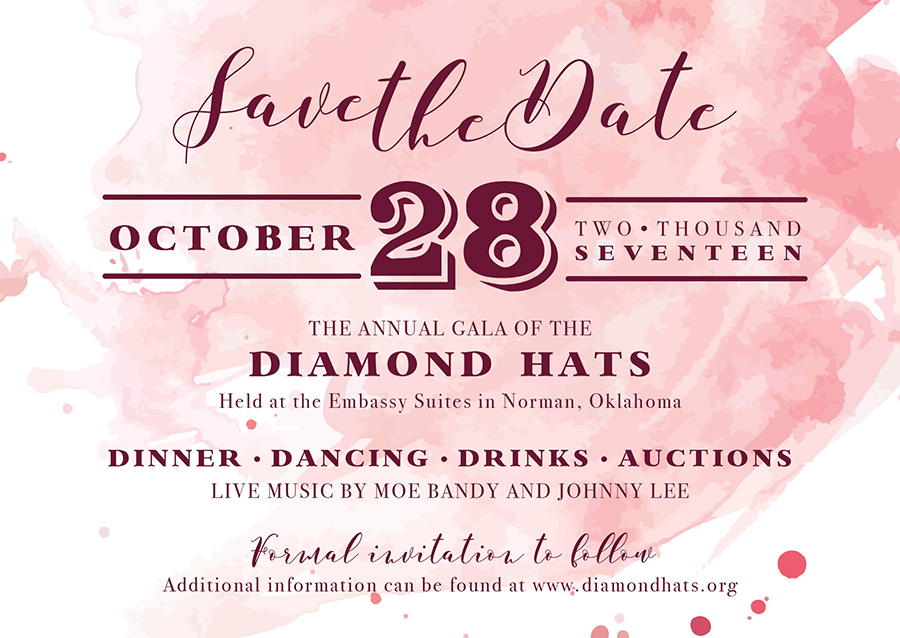 We hope you will join us for our 2017 Diamond Hats Gala. Proceeds raised will support exhibitors at the 2018 Oklahoma Youth Expo. To join our invitation mailing list, please email diamondhats@okyouthexpo.org. 

Information About Sponsorship Opportunities 

The Diamond Hats offer several sponsorship levels, as well as individual ticket sales for the gala. To reserve your sponsorship or tickets, please contact Oklahoma Youth Expo at 

405-235-0404

 or email 

kass@okyouthexpo.org

.

Silent and Live Auction Donations

The gala features a live auction, as well as a silent auction. If you are interested in donating an item, please contact 

diamondhats@okyouthexpo.org

.
The 2016 Diamond Hats Gala was held on Saturday, October 22 at the Embassy Suites in Norman. The ladies welcomed their largest crowd ever and over $150,000 was raised! A night filled with a delicious steak dinner, drinks and dancing were topped off with live entertainment by country music superstar, Neal McCoy.
Amy Shout of Turquoise Spur Designs was the official photographer for the night
View Images Here


Thank you to our 2016 Diamond Hats Gala sponsors!
Marquis Sponsors
Heart Diamond Sponsors
American Farmers & Ranchers
Blue & Gold Sausage Co.
Bradford Boring
Circle A Welding
Farm Credit Associations of Oklahoma
Gmann Custom Barns, LLC
Jerry Don Tucker Family
Gilbert Insurance Agency
Gilbert & Sons Trucking
H&D Cattle Co.
Lucky Strike Cattle
Norvell Consulting
Oklahoma Farm Bureau
Oklahoma Farm Bureau Young Farmers & Ranchers
Oklahoma Land Lady - Rachel Pickens
Oklahoma Oil & Gas Association
Oklahoma Pork Council
Pfeiffer Stock Farm
Robetha Fariss Family
Robinson Cattle
RS Cattle
Southwestern Oklahoma State University
Varner and Varner
Western Heritage Foundation
Winchester Group
Round Diamond Sponsors
Blue & Gold Sausage Co.
Charmasson Club Lambs & Clinics
Dr. Marcie Mack
Eric & Tracie Chapman
Mike & Jackie Herrel
Red Diamond Cattle Co.
Scott & Melissa Eisenhauer

Proud supporters of the Oklahoma Youth Expo!
- CONTACT US -
DIAMOND HATS
500 NORTHWEST 30TH STREET
OKLAHOMA CITY, OK 73118
PH: 405-235-0404
diamondhats@okyouthexpo.org